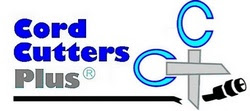 This brief newsletter, presented by Chris Edwards and Chuck Eglinton, will explain how you can pay less each month the TV networks you currently watch and less for your internet service. You can save $800 to $1,500 per year by switching to cable TV alternatives and "right-sizing" your internet service. This is called "cord cutting" and millions of people are already saving money each year by doing it. These are intended as "do-it-yourself" tips, but if you need help, drop us a line at CordCuttersPlus@gmail.com

In this issue: How to watch the Super Bowl without cable; Antenna Use is on the Rise; Disney+ is gaining; Cable prices will continue to climb; Four Streaming options that are less than $20/month
Next Issue: Absolutely free TV: No cable TV required.
Subscribe to this free money saving newsletter. Quit at any time: Did someone forward this newsletter to you? Sign up to receive this newsletter automatically every couple of weeks by using this link: CordCuttersPlus.com/subscribe
1/ Stream the Super Bowl without Cable: (11/26/19) Every year, the Super Bowl is on a broadcast network which can be watched on cable, through streaming services, or even by using a TV antenna (free) if you're within range of broadcast antennas. Watching the Super Bowl with an antenna is completely free and possible it you live within range of a TV broadcast tower. If you're not within range of a broadcast tower, streaming services that carry broadcast networks typically cost $20 to $50 less than cable TV each month. (Mashable)
2/ Antenna use is on the Rise: (12/28/2019) Antennas are more popular than cable TV, Internet TV, and satellite combined. This year, 8.1 million over-the-air TV antennas will be delivered to retailers in the U.S., up 2% from last year and 8% over 2016. According to Broadcasting Cable, Nickelodeon has seen their viewership drop by 29%, Cartoon Network has lost 24%, and the Disney Channel has lost 27% of its viewership. (LA Times)
3/ Disney+ Streaming Gains Viewers as Cable Kids Networks Plummet: According to Broadcasting Cable, Nickelodeon has seen their viewership drop by 29%, Cartoon Network has lost 24%, and the Disney Channel has lost 27% of its viewership. The Disney+ streaming service is $6.99 per month and continues to grow with over 41 million subscribers, or roughly 25% of Netflix's total audience. (Broadcasting Cable)
4/ Cable TV Prices Are Climbing for 2020: AT&T, Comcast, Optimum, Spectrum, DirecTV and Dish all plan to raise prices in 2020 Rate increases are planned for 2020 as cable customers continue to shed their bundled cable and internet packages in favor of streaming channels. (Chuck's note: Often you can avoid some or all of your cable company's price increases by cutting the cord and switching to streaming) (Consumer Reports)
5/ Here are 4 Streaming Options for less than $20 a month: (1/19/20) While there are many services offering streaming options, with even more on the way, here are four very economical choices. Three of these four even offer live-TV. They can be a good choice to get started with streaming. (MoneyTalkNews)
6/ Don't Expect Your Cable Company to Work Hard to Keep You: (12/6/19) Have you ever played hardball with your cable company when they hiked your bill in the past, threatening to leave until they caved and gave you a cost break? I know it worked for me (Chris). But as times change fast, they're more likely to just cut you loose and have you on your way. (FastCompany)
How are we doing? Anything you'd like us to write about? Need help with tech? Contact us at CordCuttersPlus@gmail.com
Our website where you'll find previous newsletters and a streaming service comparison spreadsheet:
CordCuttersPlus.com

*The small commission we may receive from retailers when you click our links does not affect the price you pay. Most items are also available for similar prices from local retailers and other online stores.