Stop paying your cable company $120-$300 per year for "free" local channels!
Review your cable bill and look for the "Broadcast TV Fee." This is the amount you pay each month to your cable company to provide several local broadcast channels. Depending on your cable provider, you are paying $120 to $300 each and every year for networks you can legally watch for free with a one-time investment in an HDTV antenna.
%14 of U.S. households watch only antenna TV.
Cable companies charge a $120-$300 per year "rebroadcast fee" for about a dozen local channels.
Most metropolitan areas have 45 to 60 local HDTV channels (and subchannels that aren't on cable) that you can watch for free by using an antenna.
Cable companies degrade picture quality. Local channels are clearer and sharper when you use an antenna.
HDTV antenna, pole & coaxial cable installed for only $279
Includes: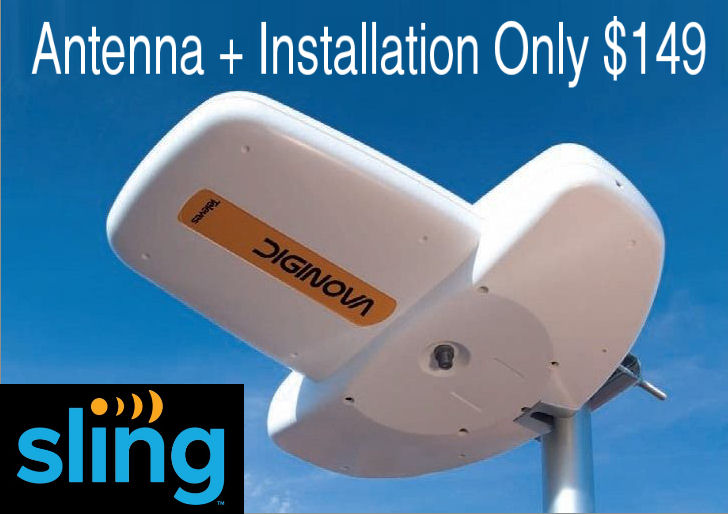 What HDTV Network Channels can I get for free?
"Transmitter Locator" websites and apps allow you to type your ZIP code or address to display a list and/or map of free HDTV stations you should be able to receive at your location using an antenna.
What if I can't install an antenna on my roof?
Your home may not allow an outdoor antenna because of homeowner association rules or for some other reason. Some antennas can be installed in your attic or inside your home. The image below is a Clearstream antenna which can be installed on a roof, or on the side of a home, or in an attic.
A single antenna can provide "whole house tv" with no wiring required.
You can connect an antenna's coax cable every TV in your home if you like, but a better way is to use an OTA-DVR. "OTA" means over-the-air from an antenna and "DVR" is a "Digital Video Recorder". A single network-connected OTA-DVR allows you to record and stream live HDTV programming wirelessly from your single antenna to a wide range of internet-connected devices including Smart TVs, streaming boxes and sticks, smartphones, tablets, and computers. OTA-DVRs have a one time cost of as little as $99. An OTA DVR with a streaming device provides these features:
Pause, rewind, fast forward

live local over-the-air TV programming.
Some OTA-DVRs

automatically skip commercials

in programs you record.
You can Record individual programs or record every episode of any TV series.
Some OTA-DVRs allow you to log-in and watch your programming from any internet connection, anywhere in the world.
To send programming wirelessly from an OTA-DVR, you'll need a smart TV or a streaming device on each TV. Popular brands include Roku, Amazon Firestick, AppleTV and prices start at about $30.
What if I want cable networks with my Local Broadcast TV?
The same networks that are available by cable may be much less expensive when you subscribe to them through a streaming service such as Sling, YouTubeTV, Hulu Live, or Fubo starting at $35 per month.
Contact us at CordCuttersPlus@gmail.com if you have any questions about Streaming, Antennas or OTA Digital Video Recorders (DVRs).